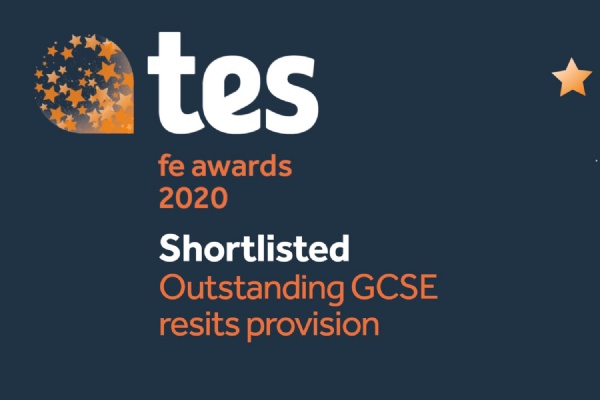 SHOOTERS HILL SIXTH FORM COLLEGE
HAS BEEN SHORTLISTED AT THE TES FE SCHOOL AWARDS 2020
We're thrilled to announce that we have been shortlisted for the Outstanding GCSE Resits Provision award!
"The most outstanding individuals and institutions that the Further Education sector has to offer have been recognised in the shortlist for the 2020 Tes FE Awards."
We have been shortlisted for our work around GCSE mathematics and aiming to ensure that each of our resit students convert their grade to a 4 or above.
We began to build the foundations of our successful GCSE maths resits with the establishment of our Maths Learning Hub, where students are able to access additional maths assistance at any time. Since then, we have integrated revolutionary pre-exam revision using Maths Mastery and university-style lectures.
These efforts have enabled us to boast a 30.5% increase in the number of students who convert their grade from below a 4 to a 4 or higher.
But our success has not stopped at our maths results: in 2018 we received a Leadership Award from the Princes School Trust and a SFCA Award for Curriculum Innovation and SFCA Award for Student Support in 2019.
All of our hard work was recognised in October 2019 when we received our 'Good' rating from Ofsted, and now we're more keen than ever to go above and beyond to ensure that our Sixth Form College provides an excellent service to its students.
Tes FE editor Stephen Exley said: "Excellent practice exists right across the further education sector, and those shortlisted for the Tes FE Awards are the cream of the crop. Our judges were extremely impressed with the calibre of entries.To be shortlisted is an extraordinary achievement"
The winners will be revealed at a gala awards evening at the Grosvenor House Hotel, Park Lane, London on Friday 20 March 2020.