Shooters Hill Sixth Form College strive to ensure student aspirations are at the heart of everything we do. We build positive and lasting relationships with organisations within the local communities in the Royale Borough of Greenwich. We believe in taking Pride in our Careers Programme and develop our learners to become the future workforce.
-
Put our student careers and employability experiences at the forefront of everything we do.
Rise to the challenge.
Inspire confidence.
Deliver a robust Careers and Employability Experience
Exceed Expectations.
-
Our Team
Jas Mato
Futures Manager (Careers & Employer Engagement)

Ren McNay Kerans
Employment Engagement & Work Experience Co Ordinator

Brigid Gyimah
Employer Engagement & Work Placement Co-ordinator
Kerry Hill
Care & Early Years work-based Learning Coordinator
Careers Advisors (Prospects)
Alex More
Obinichi Igbere
---
Careers & Work Experience
Work experience and career planning are vital to your ongoing progression and independence. That's why we will be helping you to develop the essential tools and skill sets to help you thrive in these areas. We will update this page with tips and links we believe will help you on your path to your desired career path.

Students
When you feel ready to take on work experience just let your teacher know and they will put you in touch with the WEX co-ordinator. Not sure what you want to do yet? That's fine, we have onsite careers advisors that can help you plan your next steps.
Parents
All Students undertake a week of work experience as part of their course. We have built a robust programme that focused on students getting work ready via workshops, guest speakers and interactive platforms. Once complete students can join one of our many partners or find their own placement.
Employers
Are you an employer eager to help a student get their first taste of the working world and kick-start their career? Please get in touch with our WEX team via the button below.
Summary of the Careers Programme
At Shooters Hill Sixth Form College we are committed to providing our students with a comprehensive programme of careers education, information, advice and guidance (CEIAG) for all students. We want to ensure that all students have the skills, knowledge, experience and resources required to progress in their chosen pathways. Our Careers and Employability Education is tailored to specific vocational areas and level of study.
The College endeavours to work towards The New CDI Framework for careers, employability and enterprise education, DFE statutory Guidance: Guidance for further education colleges and sixth form colleges, The DFE Careers strategy: making the most of everyone's skills and talents. The college Careers and employability programme follows good practice guidance including the Gatsby Benchmarks, Ofsted Frameworks and other relevant bodies.
Below is a summary of our Careers Programme detailing careers and employability activities available throughout the year.
Careers Guidance

Careers Guidance Meetings

Careers Guidance Drop-ins
Careers Advice at Enrolment
Virtual Careers Advice
Next Steps Group Works
Progression Appointments

Online Careers Resources
School Visits and Transition

Employability

CV Workshops
Interview Skill Techniques
Employability Skills Sessions
Blended Learning Employability Programme & Tutor Programme
Careers and Employability Events
Work Ready Interviews
External Guest Speakers
Mock Interviews
Careers Fair
Speed Networking Events
Job Search Skills
Apprenticeship Advice
Work Experience
Future Skills Days
Apprenticeship Application Advice

Events

College wide visit to Skills London
National Apprenticeship Week
College Careers and Apprenticeship Fair
Higher Education Fair
Open Days
Educational Trips and visits
Visiting Guest speakers
Employer Experience
Work related Learning
College Taster Days
Enrolment Support
Parents' Evenings Assemblies/Induction

Higher Education

UCAS Clearing Support - Drop-ins and by Appointment
UCAS Application Support
Personal Statement Writing and Course Search Support
University Visits
Student Finance Support
Higher Education Fair
Further details can be obtained from Jas Mato. He can be contacted by email on Jas.Mato@shc.ac.uk.
How we measure and assess the impact of the careers programme
It is hard to evaluate the success of any careers programme however we use the following methods:
Published data: The Department for Education publishes a range of data on pupil destinations at 16 and 18 and we compare our college with local colleges and measure against schools across England.
Evaluating activities: Here at Shooters Hill Sixth Form College, we evaluate and measure the success of each activity and ensure that we are exceeding the expectations of the Gatsby Benchmarks using Compass Plus, work in partnership with our Careers & Enterprise Coordinator and via regular feedback from students, visitors, parents, and professionals. Analysing data enables us to ensure that we are meeting the Careers and employability needs of our students, ensuring that they are accessing good quality labour market information and being well-informed about all options available to them, giving them confidence to make informed decisions about their post 18 destinations.
We are currently working towards a Quality Award CEIAG (Prospects) which meets the requirements fully for the national validation by the Quality in Careers Standard (QiCS) The Government recommends that schools and colleges should gain formal accreditation of their careers programme through the Quality in Careers Standard - the national quality award for careers education, information, advice and guidance. The Standard offers an opportunity for providers to undergo an external evaluation of their careers programme through meeting all eight Gatsby Benchmarks

Contact

Our Futures Manager is Jas Mato, she can be contacted by email on Jas.Mato@shc.ac.uk.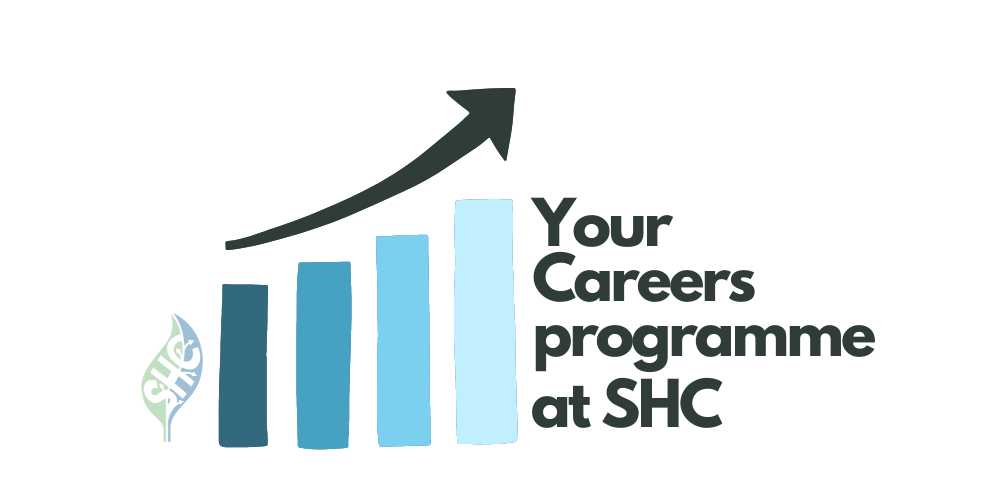 GATSBY BENCHMARK

Term 1

TERM 2

Term 3

STEM (Engineering, Motor Vehicle, Science, Maths, General construction, plumbing, Joinery & Electrical Installation and General Maintenance and Painting & Decorating

NAVIGATING YOUR WAY AROUND GROFAR ALL STUDENTS GB 2 AND 3

UNDERSTANDING YOUR PAY SLIP GB1, 3 AND 5

HOW TO SELL YOURSELF PROFESSIONALLY GB1 AND GB3

DIGITAL FOOTPRINT BY DWP GB 1, 3 AND 5

CV PREPARATION GB1, 3 AND 5

VARIOUS ROLES WITHIN CONSTRUCTION ELKIN CONSTRUCTION GB1, 2, 3 AND 5 MONDAY 25TH SEPTEMBER L2/3

10.50-12.20

Howden's work Experience Week Nov 2023

PERSONAL GUIDANCE GB8

NATIONAL APPRENTICESHIPS WEEK 5TH -11THFEB

(to be arranged)

NATIONAL CAREERS WEEK 9TH MARCH

(To be arranged) GB 1,2,3,5 AND 6

Lovell hybrid work experience week

LEVEL 2 STUDENTS PERSONAL GUIDANCE GB8

Creative Services: Hair & Beauty, Art & Design, Sport, Digital, Business Criminology

Public Services

L3 STUDENTS PERSONAL GUIDANCE GB8

NAVIGATING YOUR WAY AROUND GROFAR ALL STUDENTS STUDENT'S GB 2 AND 3

FUTURES WEEK: MONDAY 18TH SEPTEMBER. INTRO TO T LEVEL PLACEMENT PREP GB 1, 2, 3, 4.

DAY 2: TUESDAY 19TH SEPTEMBER, EXPLORING JOB SPECS/DATA COLLECTION GB 1, 2, 3, 4

DAY 3: WEDNESDAY 20TH SEPTEMBER, START APPLICATION PROCESS 1, 2, 3 AND 4

DAY 5: MOCK INTERVIEWS 1,2,3,4 AND 5

UNDERSTANDING YOUR PAYSLIP GB 1, 3 AND 5

HOW TO SELL YOURSELF PROFESSIONALLY GB2 AND GB3

DIGITAL FOOTPRINT BY DWP GB 1, 3 AND 5

PREPARATION GB 1, 3 AND 5 CV

Hair & Beauty start Bentham House projects

Sports Primary School Coaching October 2023

L1 STUDENTS PERSONAL GUIDANCE GB8

NATIONAL CAREERS WEEK 9TH MARCH

(To be arranged) GB 1,2,3,5 AND 6

NATIONAL APPRENTICESHIPS WEEK 5TH -11TH FEB

LEVEL 2 STUDENTS PERSONAL GUIDANCE GB8

Care & Early Years

Criminology

L3 STUDENTS PERSONAL GUIDANCE GB8

NAVIGATING YOUR WAY AROUND GROFAR ALL STUDENTS STUDENT'S GB 1, 2 AND 3

UNDERSTANDING YOUR PAYSLIP GB1, 3 AND 5

HOW TO SELL YOURSELF PROFESSIONALLY GB1 AND 3

DIGITAL FOOTPRINT BY DWP GB 1, 3 AND 5

CV PREPARATION 1. 3 AND 5

Level 2 Early Years (Childcare) & Level 3 Health & Social Care (H&SC) weekly placements begin w/c 30th October (ends 24th May 2024

Level 2 Early Years (Childcare) block weeks: 4th – 15th December

Level 3 H&SC block week 11th – 15th December

L1 STUDENTS PERSONAL GUIDANCE GB8

NATIONAL APPRENTICESHIPS WEEK 5TH -11TH FEB

NATIONAL CAREERS WEEK 9TH MARCH

(To be arranged) GB 1,2,3,5 AND 6

T-Level Health (Adult Nursing) & T-Level Education & Early Years (Assisted Teaching) weekly placements begin 8th January.

T Level block weeks 5th – 9th February

11th -15th March

Level 2 Childcare block 5th – 9th February & 25th- 28th March

Level 1 H&SC WEX 5 – 9th February

Level 2 H&SC WEX 26th Feb – 1st March

Level 3 Criminology WEX 4th – 15th March

T-Level Health (Adult Nursing) & T-Level Education & Early Years (Assisted Teaching), Level 2 Childcare weekly placements end 24thMay

T-Level block 22nd – 26th April

Level 2 Childcare block 15th – 19th April

Level 3 H&SC block 20th – 24th May

Hospitality & Catering

L3 STUDENTS PERSONAL GUIDANCE GB8

NAVIGATING YOUR WAY AROUND GROFAR ALL STUDENTS STUDENT'S GB 2 AND 3

UNDERSTANDING YOUR PAYSLIP GB1 AND 3

HOW TO SELL YOURSELF PROFESSIONALLY GB1 AND 3

DIGITAL FOOTPRINT BY DWP GB 1, 3 AND 5

CV PREPARATION GB 1, 3 AND 5

L1 STUDENTS PERSONAL GUIDANCE GB8

NATIONAL CAREERS WEEK 9TH MARCH

(To be arranged) GB 1,2,3,5 AND 6

NATIONAL APPRENTICESHIPS WEEK 5TH -11TH

Level 3 Work Experience

Level 2 Work Experience

LEVEL 2 STUDENTS PERSONAL GUIDANCE GB8

Level 3 Work Experience
Useful links: