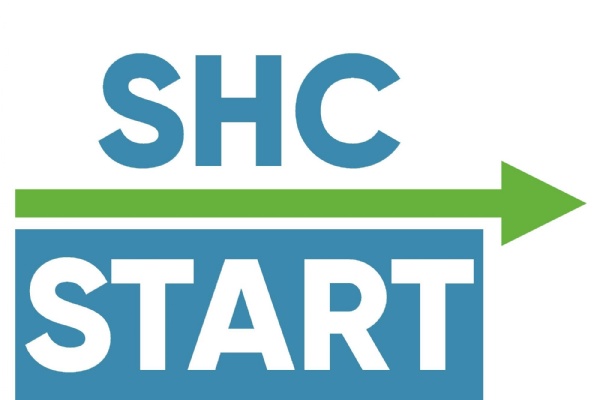 New Students Start Here!
Welcome to SHC! We've composed this list of top tips to help you through the first few weeks of term.
And don't forget... If you get stuck, just look for one of the Start Points or stop any member of staff and we will be happy to help.
---
Start Points
You can visit any of the following start points if you get lost or need an question answered. Don't forget you can also ask any member of staff you see around site for assistance.
Main Reception - Floor 1 Main Building
Student Centre - Floor 3 Main Building
LRC - Floor 3 Main Building
Admissions Team - Floor 3 Main Building
Academic Learning Zone (ALZ) - Floor 3 Main Building
Additional Learning Support - Academic Centre A125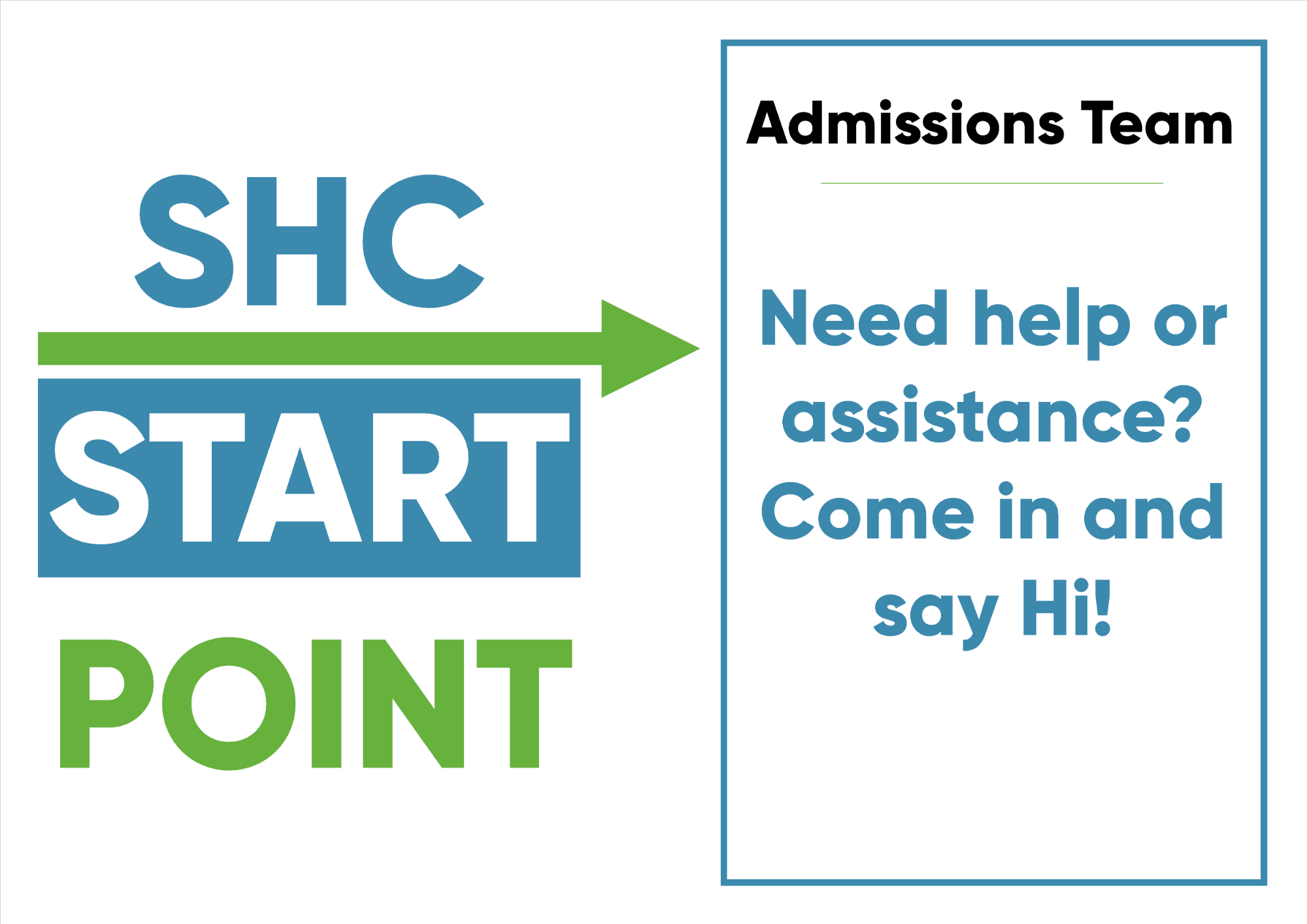 ---
Additional Learning Support
The additional learning team is here for students who want a little bit of extra support to help them achieve their goals. Our team can help you with a range of support services including:
If you have any special arrangements or need extra-time in exams
Support in and out of the classroom
Small group booster sessions focused on literacy, maths,study and exam skills
Dyslexia screening
You can find ALS in room A125 in the Academic Centre
---
Bursary
You may be eligible for financial support via the student bursary. Ask at one of the Start Points for more information and to pick up a form.
You can download a form below and contact the bursary team directly via bursary@shc.ac.uk.
---
Careers Advice
If you need careers advice, or you want to get a head start in arranging work experience, you can chat with the Employability Team via email
---
Course Changes
Changed your mind about the course you want to study? No problem! Visit the Admissions Team in room 502 in the Main Building to discuss your options.
If you have any admissions questions you can contact the team here admissions@shc.ac.uk.
---
ID Cards & Lanyards
Misplaced or damaged you ID Card? Visit the IT Team behind main reception in the main building.
The first replacement is free but subsequent prints will carry a £5 cost.
New lanyards can be requested from the Student Centre.
---
Password Reset
If you have forgotten your password you can ask your teacher to reset it for you. If you are near a Start Point they will also be able to reset your password.
---
Places to Eat
You can grab a bite in the Atrium, the café, shop, vending machines or one of the many pop-up stalls our students set-up throughout the year.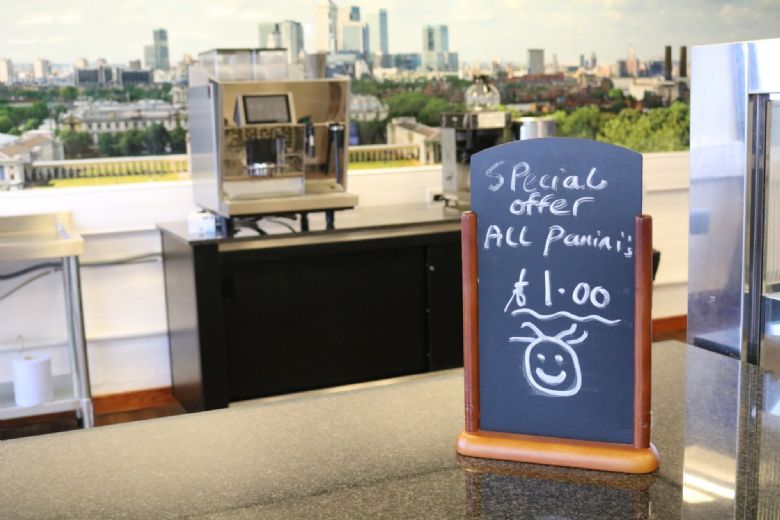 The Atrium
Located: Main Building - Floor 3
Serving: Lunch from 12:15pm to 1:15pm
The Café
Located: Main Building - Floor 4
Serving: Breakfast from 8:30am
Grab&Go Lunch from 12:00pm
Snacks and Drinks until 2:00pm
Vending Machines
There are a number of vending machines located across the site. Please note that these only accept cash.
Located: Main Building - Floor 1
Sports Academy - Foyer
Academic Centre - APEX Lounge
---
Proportal
You can use proportal to access your timetable, plan your progression path and keep an eye on your attendance and progress.
You will be issued with your log-in details during induction week, if you've misplaced them you can visit the MIS Team in Studio 1.
---
Student Absence
If you have an appointment coming up, or you feel unwell, its vital that you let us know. If you don't inform us, it's possible that we may assume you have decided to leave, and offer you place to somebody else.
You can contact the Absence Team via 0208 319 9742 or email studentabsence@shc.ac.uk.
---
Study Spaces
Need some downtime between lessons? No problem we have several spaces you can go to study:
The LRC is located in the Main Building on Floor 3
The ALZ is located in the Academic Centre on Floor 2
The APEX Lounge is located in the Academic Centre on Floor 2
These are just a couple of the many places we have located around site.
---
Timetable
You can access your timetable via proportal. If you have any problems with it, please see your tutor ASAP.
---
Shc Start card

If you've lost your start card, you can view the digital version below.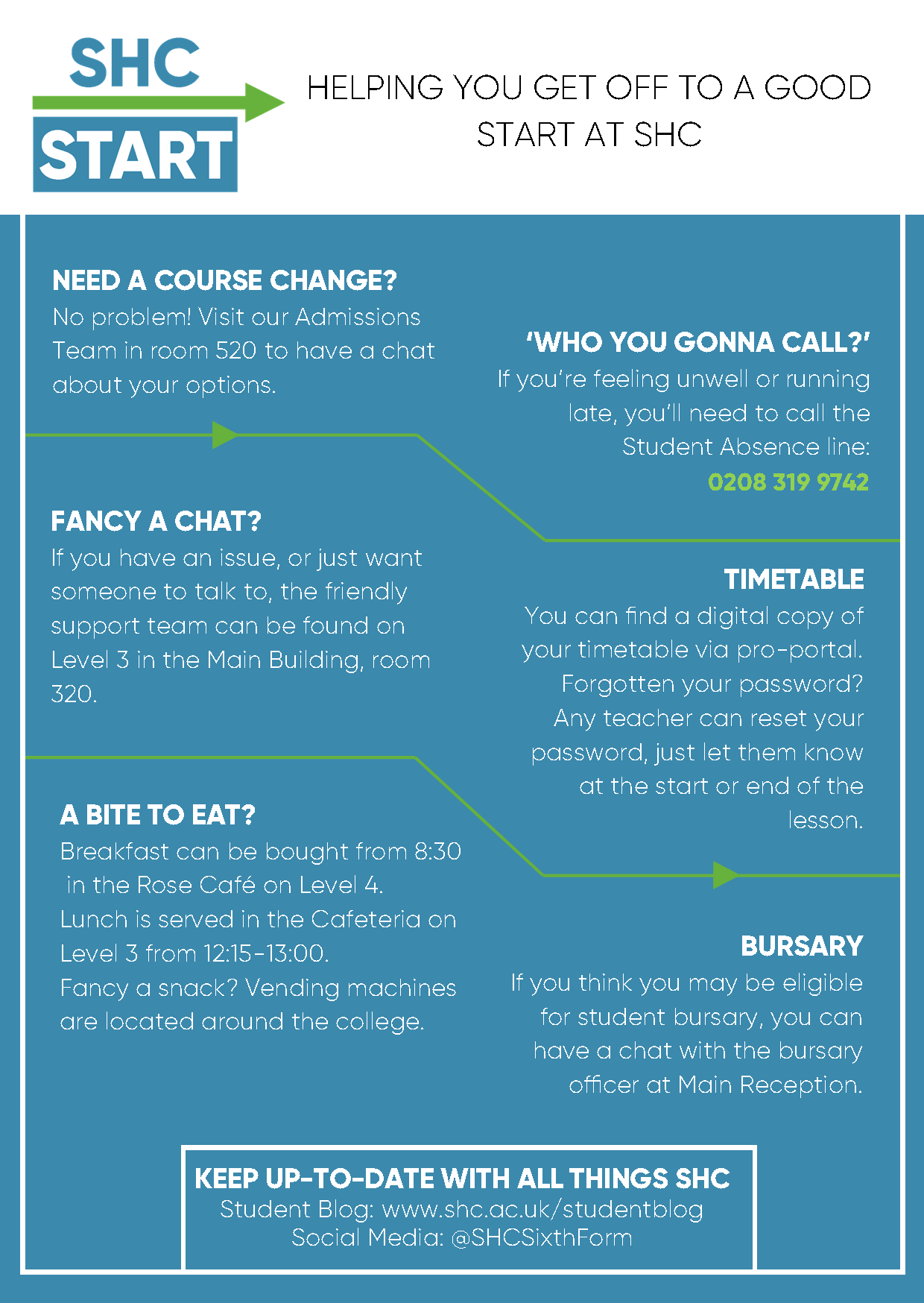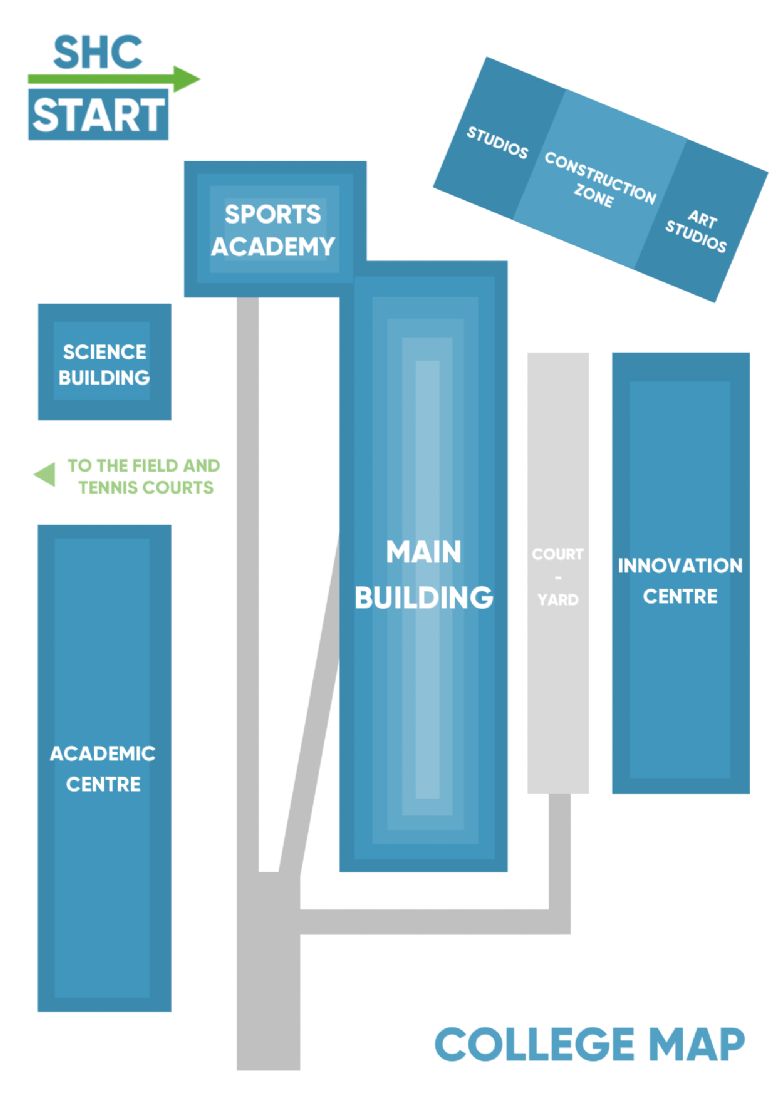 Can't find what you are looking for? Pop along to one of the Start Points and speak to a member of staff.