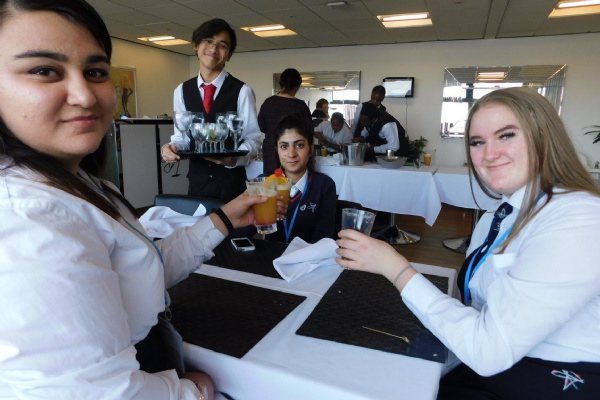 Learning what it takes to run a top class restaurant was on the menu for students from Plumstead Manor School when they visited Shooters Hill Sixth Form College this week.
The Year 11 students, accompanied by two teaching staff, Sarah and Amanda, also tried their hand at mixing a Sunrise non-alcoholic mocktail, laying the tables, polishing cutlery and glassware, and folding napkins during the visit on February 13th.
And to top it all they were treated to an á la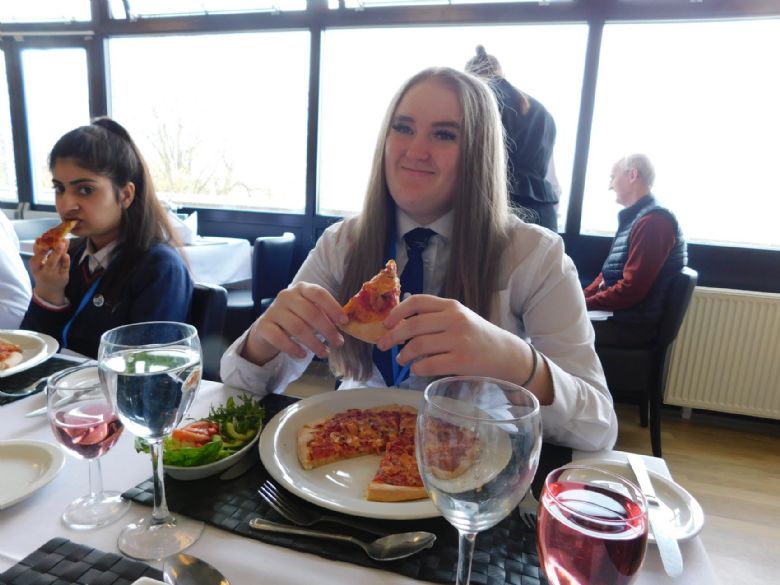 carte lunch cooked by the college's NVQ 2 students under the guidance of Chef Lecturer Mark Amos of tomato and basil soup with freshly baked bread, a City View burger or margarita pizza followed by a chocolate brownie with vanilla ice cream or a fresh fruit salad. "I can't wait to come back here as a student and a customer!" was the verdict of Phoebe-May, one of the Plumstead Manor students. Another student, Amy, added: "This is the best food I have ever eaten!"
This was the latest in a programme of visits by local schools to the college's Hospitality & Catering Department organised by Lecturer Jade Wilde, who looked after front of house with her NVQ 2 and 3 Hospitality students. Other schools to have taken part in the scheme have included Thomas Tallis, St Paul's Academy, Full Circle Education and Middle Park Primary School.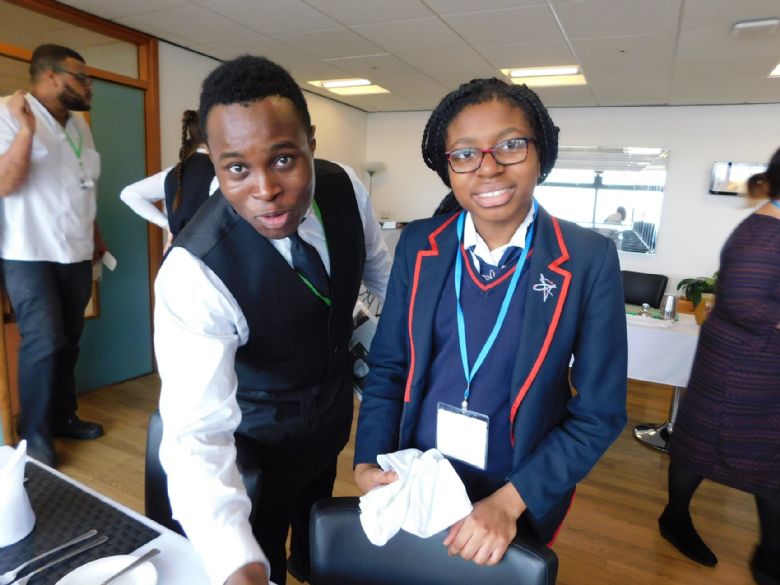 "It is a win-win for the students from school and from the college," said Jade. "They come to a restaurant to experience fine dining in this type of environment and to learn new skills. For some students who are studying GCSE or BTEC it is an opportunity to look at how food can be presented."
"The school visits are an important part of the work of the College with the local community," commented Catering curriculum leader Sarah Wells. "They are a hands-on showcase for them to learn and see what the College has to offer in terms of further education, while the benefit for our students is the opportunity to develop confidence, team working and leadership skills."
Other examples of the College working with the community have included hosting lunches and evening meals for local groups, including WIs, and donating free lunch vouchers as prizes in raffles for Bexley Academy and Christ Church Shooters Hill.
We can't wait to welcome back the students from Plumstead Manor School, and run the workshop for other Year 11 students.
Want your school to get involved in a workshop with us? Ask your school to get in touch!