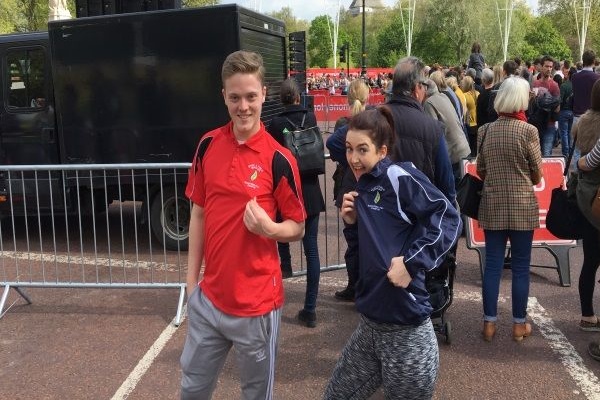 Level 3 Sport and Exercise Science students provided post event massage at this year's Virgin Money London Marathon for the charity Cardiac Risk in the Young (CRY).
After exceling in their sports massage unit earlier this academic year, two learners, Ryan and Shauna, were selected to work alongside their teacher and other massage practitioners to provide free post event massage care for the 108 marathon runners raising money for the charity Cardiac Risk in the Young (CRY).
Situated at the Hilton Hotel in Green Park – a stone's throw away from the finish line on the Mall - the learners helped ease cramp, general muscle soreness and pain, sciatica types issues, runners knee and the common lower back and shoulder discomforts associated with a gruelling 26.2 miles.
Not only this, but they also helped by providing emotional support for runners that had completed this feat in respect and memory of their children, partners, friends and/or other family members respectively that have passed away from undiscovered or 'hidden' heart conditions.
All of which were raising money to help promote the awareness of the risks, as well as promotion of heart screening procedures that the charity help fund for those between the ages of 14 and 35 years of age.
The Sport and Public Services department hope to take more lucky leaners to this and other events next academic year to help the charity and the athletes, and to promote the ability of our excellent learners.