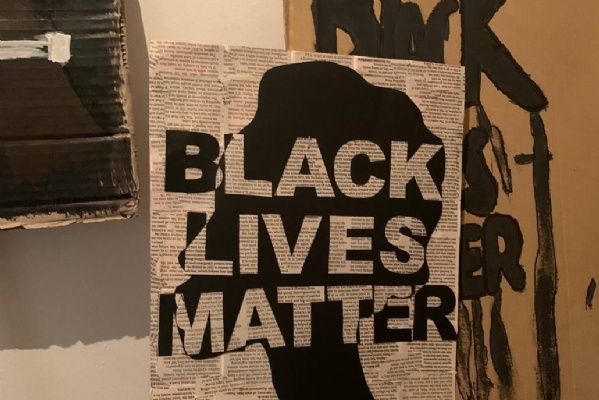 Students & staff at our college pooled their talents to create this amazing BLM exhibition, complete with a gallery, video of the show and a write up.
Take a look at their work below.
---
BLM
Black Lives Matter is an organisation founded in 2013 in the United States. It is now a global network in the U.S., U.K. and Canada. It was set up to protest against white supremacy, violence and police brutality against people of colour. It promotes equal right and treatment for all people regardless of their race, sex, religion, sexual orientation and gender identity. The movement came to the forefront of the media in summer 2020 after the killing of George Floyd, a black man who was arrested in Minneapolis, U.S. following an accusation of using a counterfeit $20 note. A police officer knelt on his neck for 8 minutes and 46 seconds which led to his death. The day after his killing, protests against police brutality to black people started in Minneapolis, these spread over the coming months to 50 states as well as here in U.K.; in London, Birmingham and Manchester amongst others.
In the spirit of the BLM movement's inclusivity, we asked every single student to make a sign that related to the Black Lives Matter movement during their induction to the art department in September. The students took part in a class discussion around the movement and looked at placard signs from the protests this summer. On display here are signs from our Entry level students through to Level 3, all mixed together. The messages vary from key slogans from the BLM movement to more personal lived experiences of prejudice they have encountered. The main display takes on the form of a wall of signs. The scale of this is full reaching from floor to ceiling at confronts the viewer as soon as they stoop into the space. The wall also becomes an intervention in the gallery space, the audience has to physically interact with the signs in order to access the second part of the show.
In the second part of the gallery are projections of BLM protests displayed alongside spoken word artists and interviews with prominent black figures using their mediums to discuss injustice as well as black empowerment relating to BLM and what it is to be a black person living in today's society. The video is displayed on blank placards which reinforce the idea of speaking out as an act of protest. The lighting in the show has been carefully considered ; a single light bulb lights all the placards at the front relating back to a key slogan from the BLM movement and the power of a single person's actions.
'Change starts with us'
---
---